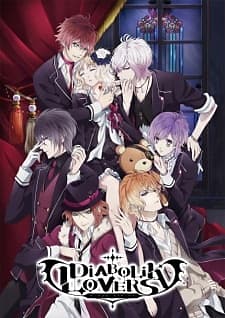 I saw the whole anime in four hours. Or something. It wasn't that it was so interesting and exciting and I couldn't wait to know what will happen in the end. The main reasons I watched it-and liked it-were the back stories of the Sakamaki brothers (I am always fond of stories with full,half and step siblings being the main characters) and because the Sakamaki brothers were
fucking hot
. Ok, that may have been the first reason.
It was sort of annoying how Yui went from one vampire sucking her blood to another.(And that there were making blood-sucking-from-a-crying-girl sound like sex. Then again, I should have guessed) I also wanted a little more action(or at least,
communication
) between Cordelia, Ayato, Kanato and Laito in the end. After I checked diabolik lovers wiki I realised that quite a few interesting details weren't mentioned in the anime (spoiler: like the fact that Cordelia was sexually abusing Laito) and that the brothers' father was totally
absent
. So did Yui's back story. Who is her father? How about her mother?
I think there will be a season 2, which I will watch. I don't think I'll love it, but I hope it's going to fill in some plot holes.
Bisous,
Vcay
xxxxxxx